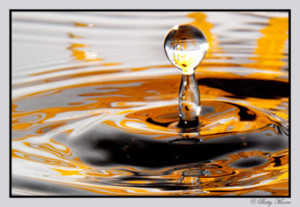 I decided to try my hand at water drops again, as I won't have much time once I'm back at work. For this shot I stuck a flower to the white back drop and bounced my flash off of it. This is what put the reflection of the flower into the water drop. I have a Canon EOS Rebel T1i, and an 18-200 mm lens. I found using Raw made the post production slower, but so much nicer when you can change the White Balance in the computer.
Then God said, "Let the land produce vegetation: seed-bearing plants and trees … Genesis 1:11
Settings: 1/200, F29; Manual Focus (turned off IS), Raw format, Flash: Manual 1/16.